Dachshund Dies In A Fierce Battle With Cobra To Protect Owner's Family
A brave dachshund proved last Friday afternoon its loyalty by fighting to its death a venomous cobra to protect its owner's family in Kidapawan city, Philippines
Miley, one of the two Dachshunds that fought the cobra trying to enter the house of their owner Jaime Selim, died minutes after catching the venom of the cobra.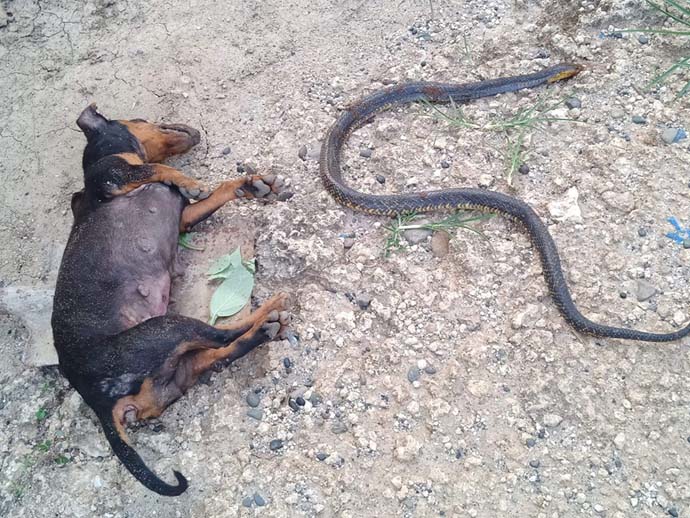 Based on Selim's FB post, the cobra tried to enter his house in Barangay Lanao last Friday afternoon. But the two Dachshunds (the black named Miley, and the other one white) stopped the cobra from entering the house.
Footage of the incident from one of Selim's CCTV cameras shows how the sausage dogs tried to shoo the cobra away by biting the cobra at every chance.
The footage also shows that the more the snake got bitten, the stronger it becomes.
It spewed venom through out the fight.
Both dachshunds were hit by the venomous cobra, but Miley fighting the snake so hard was most badly hit during the fight.
Miley died minutes later into the fight that also killed the cobra.
Meanwhile, the white Dachshund got hit in the eye, but less severely, and survived. Selim had the white dog treated at a vet center in the city.
Selim was grateful to his dachshunds' "exceptional courage" in ensuring his family's safety.
Selim, in his post on his Facebook account, said his precious dachshunds saved his one year old girl who was sleeping inside the room at the time the cobra attempted to enter his house.
A further search shows Dachshunds are scent hound breeds that hunt badgers and other tunneling animals, like rabbits and foxes.
Share your thought about this brave dachshund!
From DVM, GMA News