You must admire a dachshund which was patiently waiting and walking with his 70 years old owner. Someone would not believe in such a loyal dog.
There was a video showing an old owner walking with his dachshund and the special thing that makes everyone touched and that was a dachshund, he waited until his owner reached then he walked and repeated. The worth mentioning is that the dachshund was extremely patient, although his owner walked so slowly, he still waited and walked slowly same as his owner.
Sometimes there can be nothing worse than being out with a slow walker.
But one faithful hound remained unfazed, even though his owner, bent nearly double, was moving at a very slow pace.
A heartwarming video shows the pair shuffling along the pavement in what is believed to be in South America.
Some people had to patiently watch the video until it ended because everything in the video were moving so slowly. Therefore, the dachshund's behavior was honorable and some people did not think that there was such a loyal dog.
"What a precious dachshund, he was patient, full of love to his owner" said a person who watched the video.
"The owner had to move difficultly on the road but no one helped except his own dachshund. This is so terrible and it makes me sad" said another person who felt sad after watching the video.
"It is wonderful! The old owner had to take care of his dachshund as a close friend and the dog had a deep respect for him. Their affection is so precious." said another person.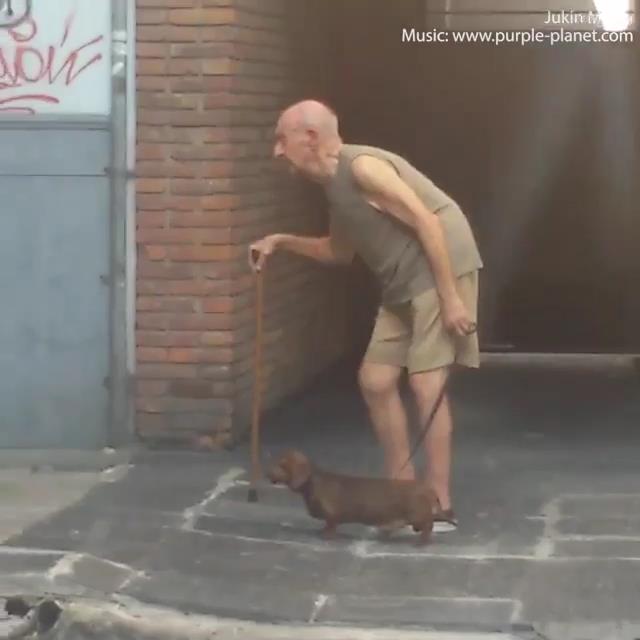 This is just a normal story but it's special and is a lesson for us to know how to treasure our pets because they love you and understand your love, therefore they will be unconditionally loyal to you.
If you know other precious behaviors of dachshund, please comment below.
You may like to read: Dachshund Dies In A Fierce Battle With Cobra To Protect Owner's Family